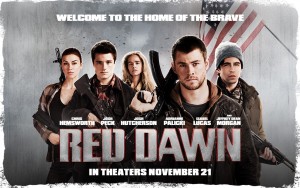 It was 1984 and the original "Red Dawn" opened up to mixed reviews. Newspapers with left-leaning and liberal political views hated the movie's overly jingoistic, anti-Soviet themes; those of the right-leaning persuasion applauded the pro-America overtones, many of them standing up in the back of the movie theater to yell, "'MURRICA, FUCK YEAH RED DAWN!" Some called it an expression of testicular fortitude; others called it unnecessarily violent, unrealistic, and xenophobic. All the Red Dawn Movie Reviews agreed on one point, however: that in the midst of the Cold War it came as no surprise to see the release of a film with decidedly patriotic overtones.
This was the clincher for the original version of the film; gun-toting conservatives tended to love the movie, whereas peace-loving liberals tended to hate it. But how does the remake stack up to the incredibly ambitious first version of the film?
Upon first inspection, I didn't know what to think. The movie stars characters Jed (Chris Hemsworth) and Matt (Josh Peck), two brothers who eventually lead the resistance against invasion into their city. Jed and Matt are some of the scant number who escape the North Korean invasion (yes, you read that right, North Korea invades America). I was confused at first because I recognized Josh Peck from his various forays on the Nickelodeon television screen, but I was pleasantly surprised to see him acting a more emotionally mature role sans puppy fat and toilet humor; rest assured that "Red Dawn" doesn't contain any Nickelodeon-type humor (or any humor at all, for that matter). For his part, Chris Hemsworth comes from his previous role in "Thor" and pulls off an Iraq War vet particularly well.
The bulk of the film consists of Jed, Matt, and their fellow "Wolverines" in a guerrilla battle against the forces of Captain Cho (Will Yun Lee). My favorite scene, the one that really cemented the emotional intensity of the guerilla warfare for me, was the Viet Cong style execution of Jed and Matt's father near the beginning of the film; if Dan Bradley was going to give his film a new antagonist sans a Cold War atmosphere, he had to give the characters a good reason to fight to the bone, and that was certainly it.
On the surface, it seems like a good idea to have a good, ass-kicking American movie. Goodness knows we Americans love that "'MURRICA, FUCK YEAH!" mentality at times, and Red Dawn is full of it. But if Dan Bradley's goal was to have his film generate the same effect as the original, he sadly falls quite short. I didn't even know that there was going to be a remake until I was told it was already in theaters, which speaks more to lack of enthusiasm about the film than my disinterest in American cinema. I'm not surprised that there was lack of enthusiasm in promoting Red Dawn; it was caught up in production for several years, long enough for the original antagonists, the Chinese, to be switched to the now-relevant North Koreans.
At first I thought that the remake might perhaps echo the original's xenophobia… but it doesn't. I have a major crush on Kim Jong-un and was terrified that the movie would be as anti-DPRK as the original was anti-USSR. But thankfully the film manages to escape that. After the premier there was a wash of anti-Asian sentiment on the twittersphere, but I fail thoroughly to see why, as the remake has failed thoroughly to echo this sentiment from the original. That's not to say that this cautious approach really adds to the movie's storyline in any way; being politically correct is fine, but directors of a remake such as this one have GOT to make up for that in some way, and Dan Bradley fails to accomplish that.
My biggest problem with this remake is the lack of jingoism. Considering that Red Dawn was to be released amid the drama of an especially contentious election, I would have thought that it would make sense to keep the original version's patriotic ass-kickery. But whereas the 1984 version was fully pro-America and politically divisive, the 2012 version is not so much political as it is the story of two brothers fighting for their family and friends. For any other story, this idea would have worked, but in a remake of a movie considered to be so politically strong that I once heard someone suggest a copy should have been thrown in Reagan's casket, the original spirit of the film is totally lost by turning the movie into a family tale. This remake goes from being a political ass-kicker to little more than a modernized Western. I would imagine that the lack of jingoism probably came out of a fear of coming across as racist, which I do in some ways appreciate, but something tells me it certainly is possible to say "'MURRICA, FUCK YEAH!" without saying "Fuck Asians!"
What this remake also lacks is a cohesive plot. Rather than advancing a solid story, which could have made up for the dearth of jingoism, Dan Bradley focuses on the dreaded shaky-camera technique and a few explosions. There isn't much dialogue. There isn't much blood. There's not even much action. What's the point, what's the appeal? It is, quite literally, just a bunch of kids running around in circles. I won't spoil the ending for you, because there isn't one. The film never concludes. We don't know what happens. We don't know where the story goes. The original version at least has the courtesy of telling us the war continues with no end in sight.
I wanted to like this film. I wanted to like it in the eyes-rolling, military-brat kind of way I liked the original. But Red Dawn has less substance than overcooked rice, and for that I can only give it two out of five joss sticks; I was originally going to only give it one, but then when I realized I would have gladly defected to North Korea and become Captain Cho's mistress, I figured I owed the film a few sympathy points.