[Guest blogger Grace from Texan In Tokyo writes in to share her romantic love story of how she met and married her Japanese husband while living abroad in Japan.] 
I never intended to marry a Japanese man.
I tell people this all the time, which just goes to show how messed up this whole "dating scene" really is. I also never intended to get married right out of college, but that's another can of worms.
My first impression of my husband was that he was funny and had a giant mole on the side of his neck… but I didn't really think anything of it. After a couple awkward encounters in high school, I had a rule – "no dating someone in your circle (school, work, etc)." That way, when you inevitably break up, you won't have to keep awkwardly running into them on campus/at work.
It wasn't that difficult to keep my self-imposed "no dating" rule in college – going to a small liberal arts college outside of Philadelphia, I found the dating prospects lacking. I loved travelling and had lived in fourteen cities in three different countries – I was interested in someone who knew that Georgia was both a US state AND a country.
But then I was brushing my teeth in the co-ed bathrooms on the first floor of my dormitory (our dorm was one of the ones on campus with co-ed bathrooms and showers)… and my future husband stepped out of the shower wearing nothing but a small, pink towel wrapped around his hips… and made me re-evaluate that self-imposed "no dating" rule.
I got to know him a bit better after that. He was not only a giant goofball with an odd taste in clothes, but was also a fitness fanatic who wanted to run his own NGO by the time he turned 30. I couldn't think of anything sexier.
I liked him first. He had never dated a white girl; I had never dated an Asian guy. I didn't really know how to approach him "romantically," so I just settled for being his "American ambassador," showing him around campus, and dropping by his room a couple times a week (thankfully, I was on a committee with his roommate, so I always had a valid excuse).
Eventually he wised up and asked me out. He knocked on the door to my room, and I opened it to find him on one knee with a strawberry ring pop and the question "will you be my girlfriend?"
Of course I said yes.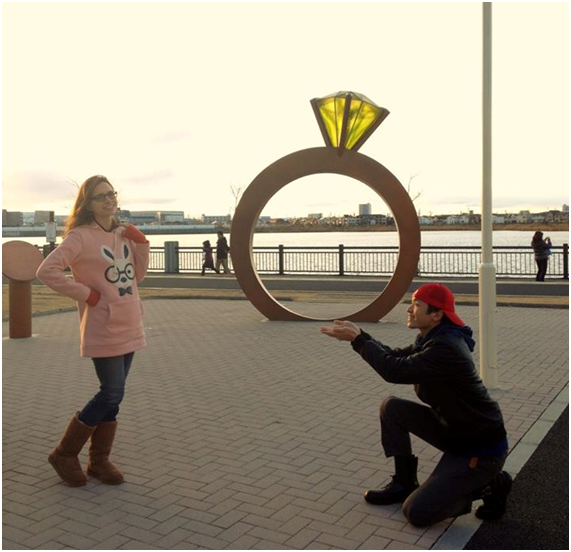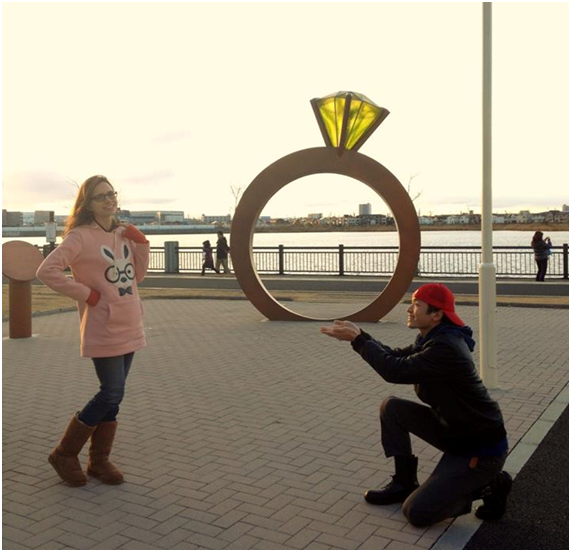 But like I said, I never intended to marry a Japanese man. Actually, I never intended to get married until my early thirties – I had my sights set on an internship with the US Department of State after college, a full time job with the government by 25, marriage by 33, kids by 35, and Ambassador by 45.
Sure, in the back of my mind, when I first said "yes," I thought it might theoretically be possible that he would whisk me away to Japan for a more simple, beautiful "Happily Ever After" … but I also thought I might be struck by a flaming toilet bowl that broke off a space station and crashed into the earth (I saw it on a TV show a couple years back and couldn't get it out of my mind).
Love can get in the way of even the most rock-solid, burning 'career women' plans. By the time I realized it, I was head over heels.
He proposed on our one year anniversary. We got married on our two year anniversary, in a rustic ceremony in Texas. Afterwards, we moved to Tokyo together.
I started my blog "Texan in Tokyo," where I drew comics and blogged about daily life as the white wife of a Japanese businessman. I wrote about us being broke newlyweds, about us being an interracial and intercultural couple, and about me being a freelancer in a foreign country.
My blog took off.
In the last six months, I've had 1,000,000 page views, which prompted me to write my first comic book, "My Japanese Husband Thinks I'm Crazy: The Comic Book."
I'm self-publishing it through a kickstarter campaign. It's a great book for people who have been in an AMWW relationship, who have lived in Japan, or who have worked as a freelancer abroad.
Sometimes I have to laugh and think "what happened…?"
One minute I was halfheartedly offering to show the exchange students around campus (because I wanted a chance to apply for that student-job opening at the study abroad office), the next think I knew, I was 'casually' dropping by my future husband's door, checking if he needed any help with class work.
Life isn't anything like I thought it would be. But then again, it never is.
The most important thing is that I'm married to my best friend, a clever, funny, terrifically sexy Asian man who makes me want to be a better person.
He encouraged me to start writing my blog "Texan in Tokyo," where I draw comics and blog about daily life as the white wife of a Japanese businessman.
And now, two years later, I am excited to announce that I am publishing my first book "My Japanese Husband Thinks I'm Crazy: The Comic Book" on kickstarter.com. Check it out to pick up a PDF or signed copy of the book!
Also, don't forget to check out my blog, "Texan in Tokyo" and my Facebook page!